Let's start with my newest obsession: LOVE IS BLIND. Of course this is something I like to watch. Why? Because it's all about love. And as you already know: I'm a sucker for love. Thinking about it, most of my all time favorite movies revolve around love. And honestly what would life be without love? I can't even imagine, and I don't want to...
I'm sure everyone already come across Love Is Blind, but maybe you are one of those people uncertain if it's something worth watching. The short answer: Hell Yes!!!
The main goal of LIB is to "see" if love truly is blind. Does it really matter how someone looks? Are looks the most important factor in finding true love? I hope we all do know the answer, and know that looks are only a part and most definitely not most important.
Here's how the LIB experiment works: the contestants go on dates with one another – BUT they can't see the one they are on a date with. The goal of the series is that the contestants find true love, meaning the end goal is to get married at the end. For this to happen the potential couples meet in so called pods. Those pods are two rooms next to each other – only separating the contestants is a wall. While being on their dates, the two can't see each other, they can only hear their voices.
Soon after going on the first dates, everyone finds their favorite(s), and so the favorites go on a couple of more dates. The goal is that the contestants form an emotional connection. If the contestants want to meet face to face one of them has to propose to the other. If the other person accepts the proposal, they meet the next day face to face.
Afterward the couple is send off to vacation together. The main goal for this vacation is to add a physical connection. After the vacation, they are moving in together. Therefore the producers provide them with a neutral place to live in. If things are still working great between the two, they have to meet the parents. Only after that they conclude their journey at the altar. Now it's interesting to see who is ready to say I do, and who's not.
Here are my thoughts on why I think Love Is Blind is something you should watch:
* never have I ever seen so many men at once who are interested in a real relationship and marriage – we all know shows where women want to get serious, but the men? Very rarely! So praise the person responsible for finding this rare breed of men. Curious enough, the women in LIB are also interested in finding real love, but the men seem to be way more excited and sure about what they want than the women altogether. Or let's say some women seem more hesitant than the men.
* it's such a blessing to finally see people openly talking about what they really want. In today's dating world you have to be cautious to say you want to get married, want to have kids, because omg you could frighten the man of your desire. Because things could seem to be too serious too soon. So it's a great change to finally listen (and of course seeing) people talk about what really matters in life. They talk about their hopes and dreams, about their fears, about what hurt them in the past, what they want in a relationship etc.
* another kind of unbelievable aspect of the show is to see those people connecting so deeply with one another in such a short amount of time. They talk about real love only after a couple of days. And let me tell you: it seems to be (most of the time) genuine. You really believe that they found the one – not everyone, but really a few, and that alone is astonishing.
* even if you doubt that this experience is something that is going to withstand the test of time (let me tell you at this point, that the show was filmed 1 1/2 years ago and the reunion was filmed nowadays, so the couples seen in the reunion are still going strong), it is still very interesting to watch the love developing, flourishing and growing. It's one of the things I like the most to see, how people interact with one another. What makes them smile, what triggers them...
* not only do the contestants have to be really open for an experience like this, but it's also interesting to see their family react to a love connection like this. Because right up to the point of meeting the new love of their child they know nothing or very little about the experiment itself. At this point you get to see how open and accepting the parents are of an untraditional love like this.
* once you start watching LIB you get sucked in and NEED to know who ends up with whom, and who is really getting married at the end.
I can really highly recommend watching Love Is Blind. It's unlike and dating show I've ever watched. It seems genuine, meaning you can see and feel that the contestants really want to find love. It's not like The Bachelor, where it seems that being on a show is more important than finding love. But that's also due to the fact, that the format is way different... The Bachelor is more of a show/entertainment than something with a real and deep purpose.
It's a shame, that Love Is Blind is only 11 episodes long. Because I would have LOVED to see more of the talks the couples had in the pods. Also I wanted to see more of the families and also about how and where the contestants live. Also the weddings were a little bit short, it would have been nice to see more of that too. I hope they change that in the future. 
Let me know who's your favorite couple and why.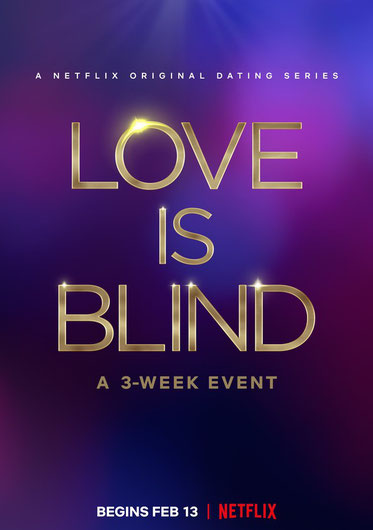 For more photos click on my Pinterest pinboard.